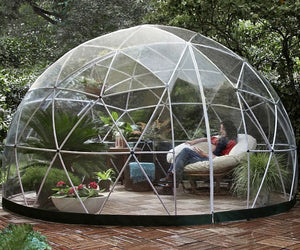 Estimated Arrival: Between Dec 05 and Dec 19. *ETA to USA Only

BUY WITH CONFIDENCE - USING OUR SECURE CHECKOUT


The Gardenigloo is weather-proof and rust resistant. It can be used all year round and is set up without tools in two hours.
The entrance has a reinforced zipper door and a large zipper handle for easy operation.
With its two optional covers, it provides shade when it's too hot and keeps out the cold while you're waiting for summer to arrive – as a play area for children, storage area, garden shelter, greenhouse, jacuzzi cover or pavilion.
And now the igloo also protects you from mosquitos. Simply use the latest addition: the Gardenigloo mosquito net.
MAXIMUM SOLAR GAIN

 

- Sunlight is always transmitted at right angles throughout the day for four seasons. Please allow up to 3 weeks for the wrinkles to dissipate in the igloo cover.
OPTIMAL AIR FLOW- Excellent airflow is maintained even in warm, still weather conditions. The heat inside is distributed evenly at all points.
UNIFORM TEMPERATURE- The geodesic dome form is superior to conventional shaped rooms in sustaining better airflow and a uniform temperature inside.
WIND AND SNOW RESISTANCE- The geodesic form of the dome allows for the most robust design possible to withstand the strong wind (up to 31 mi/h) or lying snow conditions (max. 90 lbs).
SIZE MATTERS- Garden Igloo has a diameter of 11′ 9″. Max height is 7′ 2″. The base area is 107 ft²
---